In honor of the bad haircut I received last week from a girl at
Great Clips
I decided to write a review of my experiences dealing with the business.
I started using Great Clips as my salon of choice about 5 years ago. In the beginning I was using the Clemson, SC location, but when a new location opened in Seneca, SC I switched to that one because it's much closer to my home.
I had nothing but pleasant experiences with the salon for 4 years, but in the last year things seem to have really gone downhill. Our less than pleasant experiences began about 10 months ago when my husband went in for a haircut. There were plenty of stylists working, and there was only 1 other customer in the entire store.
My husband sat in the waiting area for almost an hour before he was called back for his cut. Already upset from the extremely uncalled for wait time, he asked for his normal cut which is a very simple military cut than even an untrained person like me can accomplish in 10 minutes time. It took the stylist close to 45 minutes to finish the simple buzz cut because she kept walking away to talk to another stylist. She even answered her own personal cell phone while she made my husband sit there waiting to finish his cut.
We complained to the store, and we were given our money back for the experience which was definitely a plus. I liked the fact that the manager handled the complaint by reimbursing us, but the stylist wasn't reprimanded. We were given the excuse that the stylist was on her cell phone dealing with a family emergency, and that we should understand. My husband mentioned that the stylist appeared to be having a casual conversation with a friend, and it didn't seem like a family emergency at all.
By this time I knew what hours the one girl I liked worked, so I would always plan to get my hair cut during those hours when I knew the store was the least busy. I was still happy with my own situations while many people were asking me how I could still use that salon. Many of my family and friends were having extremely bad experiences with the salon.
Within a couple months most of the stylists I was used to were gone, and the salon was filled with a ton of new girls fresh from beauty college. My husband had 2 more hair cuts at Great Clips before he refused to give them any more of his business. The stylists were not cooperative when he explained what he wanted, and he was getting tired of the unprofessional way they carried themselves. My husband's last hair cut resulted in a gap being cut out of the back of his hair that was extremely noticeable simply because the stylist was talking to someone else instead of paying attention to what she was doing.
Through all of this I continued to visit my normal stylist there because she was continuing to do a great job. I also allowed a couple other stylists to cut my hair that I had previous experiences with, and they were great. Then I finally dealt with my own bad experience last week.
I headed in on Friday, December 28th for a quick cut. Because of the holidays the store was dead, but my normal stylist wasn't available. I had to settle for a girl I had never seen in the salon before. My hair was extremely long, more than half way down my back. I waited about 10 minutes for the 3 stylists in the salon to stop having a private conversation before I was seated in a chair. I asked Carmen, the stylist, to cut my hair to about 1/4" below my shoulders. I said I would like a small amount of layering in the 1/4" to my shoulders to help my wavy hair curl under. This is what I always ask for when I cut it short, and it always turns out great.
After Carmen walked off two times to talk to another stylist, then a 3rd time to answer a private phone call, she finally began cutting my hair. She immediately cut the bottom layer much shorter than I requested, and when I questioned her she replied that the rest of my hair would be longer. She was just thinning out some of my heaviness.
She was cutting my hair wet, and I made a point to mention that my hair shrinks up a great deal after it's been cut wet, so she would need to leave it a little longer, but she argued that the length wouldn't change. When she was done not only was my hair much shorter than I requested, but I could see drastic layers even with the hair wet. I asked that she dry and straighten my hair so I could check the layers, and I was told that it would cost an additional $20. I voiced my dislike for this and made a point to mention that all of the other stylists always blow dry my hair straight to check the to make sure the layers blend nicely. She plugged in her blow dryer, so I assumed she was going to at least blow dry it like I asked, but instead she disregarded my request completely, blew the hair off the front of my smock, and removed the smock from me.
I left with soaking wet hair and very unhappy with this stylist after paying for a haircut I had a feeling I wouldn't be happy with. By the time I got home my hair was dry, but wavy so I immediately straightened it. This is what the cut looked like.
As you can see the cut is MUCH shorter than I originally asked for, the layers are extremely chunky, and the layers do not blend at all. I decided I could live with the length as I actually kind of liked it, but the layers were not something I could handle. I voiced my opinion on my personal blog about returning to take advantage of the 100% satisfaction guarantee Great Clips offers.
I decided I would return after the holidays when I had time to do so, but my husband pointed out something that I wasn't expecting. He held up a mirror for me to see the back of my hair, and I wasn't pleased at all.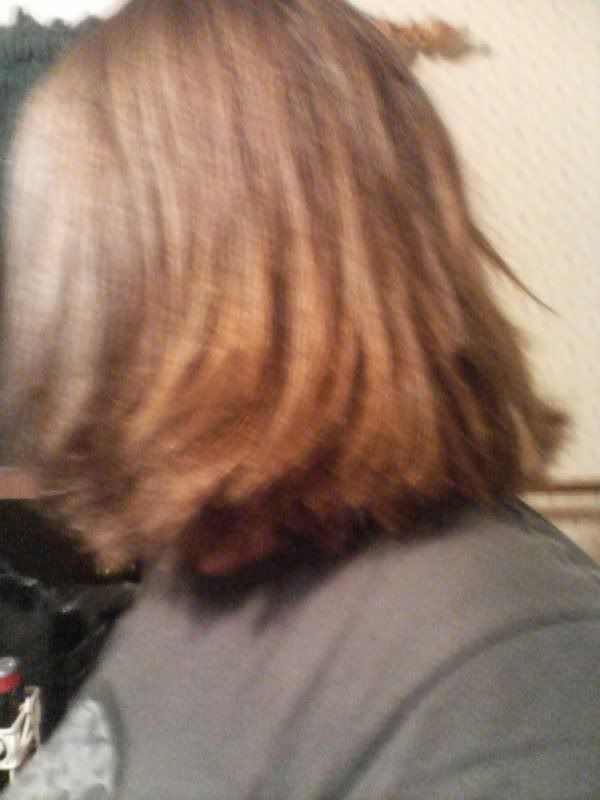 The back of my hair was completely butchered. (click photo at right for larger view)
The layers were so chopped up that some of the top layers were longer than some of the bottom layers. It looked like someone gave a 5 year old a pair of scissors and gave them free will on my hair. Some sections of my hair didn't even hair layers while the sections on either side were cut to my chin. I was NOT happy.
I returned to Great Clips Sunday afternoon to have this fixed. I was met by one of the other girls, Shannon, who has cut my hair before. I explained the situation, told her what I had originally asked for, then I showed her the back of my hair. The look on her face was one of mortification. I even said "Would you go out in public with your hair looking like this?" She agreed she wouldn't.
Shannon was very helpful and quick to fix the situation. Even though I didn't want to, we had to go a little shorter and with a cut I wouldn't have chosen for myself.
I was happy with the cut, and the service Shannon gave me, but I was NOT happy with the way the employees handled my complaint about Carmen, the stylist who originally butchered my hair. I was told that apparently the stylist just "didn't understand what I wanted."
When I said I wanted to file a complaint about her, I was told that "some people just like the really messy look", so there was really no grounds to file a written complaint. I'm sorry but my cut was not a "messy look". It was a whack job. I don't see how anyone could purposely want their layers cut like this. Why would I waste money on a cut like this when I could do a better job of it at home by myself with a blindfold?
It's been a few days since I had my haircut fixed, and in that time I've had time to talk to a few of my friends who have vowed to never use Great Clips again. I asked each one of them what their reasons for feeling this way about the salon are, and each one of them told me the same thing. The customer service was poor, the stylists disregarded what the customer asked for, and 2 of my friends experienced the same horrible layering cut from the same stylist, Carmen.
What's my recommendation? If you're visiting a Great Clips salon for a cut, make sure you check out the stylists working there. If you're looking for a cut that actually involves the use of skill such as layering, ask to see a portfolio of previous work. ALL stylists should have some type of portfolio. Just because they have a license does not mean they know what they're doing. If you receive a bad haircut, file a complaint with the corporate office. (I'm sending a copy of this review straight to Great Clips corporate.)
My Ratings:
Overall Customer Service:
Skills:
Willingness To Please Customer:
Price:
It just goes to show you get what you pay for!